Looking for a fun and challenging way to keep your brain active? Try these 15 mega 2000 piece puzzles! They boast super cute designs you'll want to frame – and hours of entertainment. Affiliate links in post.
One thing you may not know about me is that I am obsessed with puzzles. Lockdown really had me branching out to find engaging, off-screen hobbies to keep my brain from melting – and jigsaw puzzling was the perfect solution!
Puzzling has a whole host of brain benefits – studies have even shown that it can improve short-term memory and problem solving! It'sa great way to de-stress, disconnect from the outside world and just lose yourself for a little while. Not to mention, satisfying!
The feeling when you finally complete a challenging puzzle? Unbeatable.
Anyways, I'm probably preaching to the choir here. After all, if you're looking for 2000 piece puzzles, you're not likely to be a newbie! So, if you want to stretch your brain, let's get into my puzzles of choice . . .
First up on this list simply has to be plant related. If you're familiar with me and my blog, you already know how obsessed with plants I am. (And it is truly an obsession…)
Naturally, I love any botanical puzzles! The vibrant colours of this design – not to mention the little crystals peeking through – make it a big yes from me.
Ugh, be still my romantic, Pinterest-loving heart. Our next puzzle is as gorgeous as it is tricky – and it's giving me major wanderlust. It's been too long since I've seen such gorgeous architecture.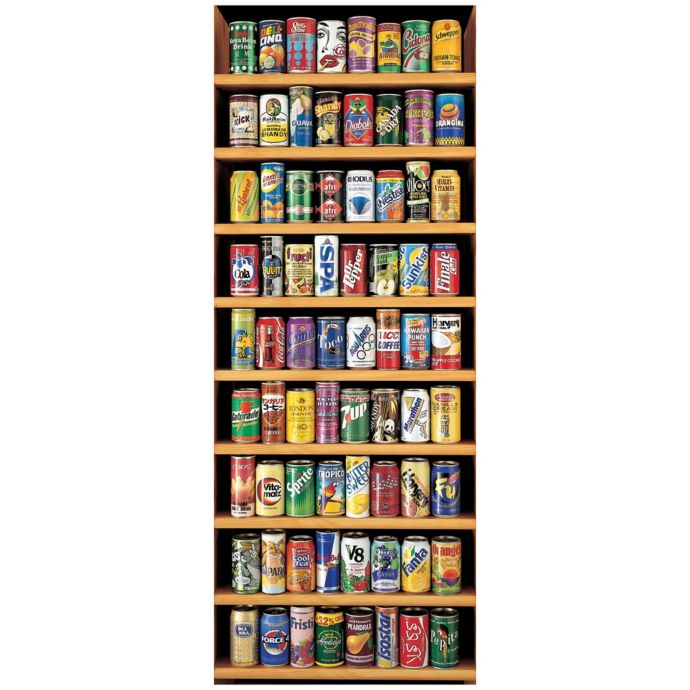 If you're like me in that you enjoy framing completed puzzles, this mammoth can puzzle could be a perfect addition to your kitchen! And, if you don't frame puzzles, you should totally start. Not only is it pretty easy, you get cute artwork out of it. Win win! Here's a super cute puzzle art set-up I love:
I wasn't aware the Bed, Bath & Beyond even sold puzzles – but they have a surprisingly large selection available. You learn something new everyday, huh?
Weird confession time: I'm absolutely obsessed with art that plays with perspective. My secret Pinterest board of art inspo is completely full of it! The design of this metropolis puzzle is so stunning and trippy – I reckon it would be super challenging to put together, but look great once it's done.
Unrelated side note: does anyone else think a puzzle date night would be a super cute idea? I'll test it and let you all know.
Did I select this puzzle because Florence and The Machine is dropping a new album and this is serving me the vibes? Like, maybe. But you're welcome either way, because this is a dang cute puzzle.
Not to mention, if you managed to complete it (again…it is 2000 pieces, so not for the faint of heart) you could thrift an ornate gold frame for it and . . . well, it's literally art!
A la 'Rona and student poverty, I have not been able to travel over the past few years . . . and wanderlust has got me by the neck. This gorgeous scenic puzzle is giving me all the vibes.
Disney has definitely done a lot of things right in their time – starting with cultivating such a dedicated fanbase! My aunt is a definite Disney adult with tons of collectibles and cute items . . . so you bet your bottom dollar that I had to forward this to her.
The crazy thing about this puzzle? If you're after officially licensed Disney art, it can get insanely pricy very quickly. So this is hours of entertainment and a cute art piece for way cheaper than you'd pay for a print!
8. Go Iconic With This 2000 Piece Puzzle Of The New York Skyline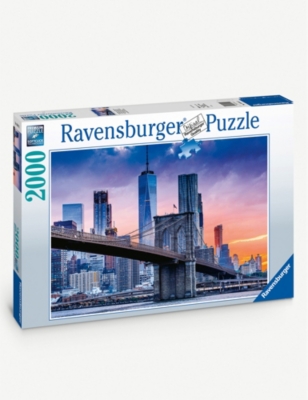 An absolute classic, I'm sure you'll agree!
The next addition to this list of stress-inducing- I mean, fun and achievably challenging 2000 piece puzzles is a good old classic: the map of the world!
This could be a really fun and enriching activity to do with a child too. Maybe I would've paid more attention during geography if we'd had fun things like this . . .
Does this look like the most frustrating, difficulty thing I've ever set eyes on? Yes. Let me level with you for a second – there is no way in hell that I would recreate this. I love puzzles to destress . . . and this would have me throwing hands.
However, if you are more level-headed than I am and down for a challenge, this puzzle will surely keep you entertained for hours.
Our next option is another classic that wouldn't be out of place in any home: Van Gogh's Starry Night! If you're an art enthusiast, this is a must-try.
Keeping to the theme of iconic artwork, how about Monet's garden? This is another gorgeous puzzle – and the soothing imagery makes it perfect for de-stressing.
LOOKING FOR ANOTHER CREATIVE HOBBY TO KEEP YOU OCCUPIED? CHECK OUT MY OTHER POSTS BELOW FOR IDEAS!
Of course, I had to include another nod to plants and flowers because – as I mentioned at the beginning of this post – I am utterly obsessed. Our next puzzle is one of my favourites, admittedly because I want to live inside of it.
And we have another mind-bendingly trippy option here for you! (Side note: how amazing would it be to relax and read a book in this gorgeous space? Obsessed.)
Last up on this list is one of my favourite 2000 piece puzzles I'm sharing today. Why? Because it's completely personalized to your tastes! You can upload a treasured photo, or favourite art piece – and have it made into a fun and challenging puzzle.
What a fun gift idea, right?
Plus, this is from an Etsy store, so you're also supporting a small business. We love that!
Anyways, with that we shall conclude this post! I hope you enjoyed this roundup of quirky 2000 piece puzzles. Don't forget to let me know which your favourite is in the comments down below.
Check out my first Youtube video:
Keep up with me on Insta:
Let's share ideas on Pinterest: