A curated list of the internet's finest boho lace dresses – so you can look fabulous for that thing you have coming up!
Oh, how I love bohemian fashion. It's fun, it's comfortable (bodycon maxi dresses? It's a no from me) and the patterns are simply beautiful. The right dress makes me feel like I'm in a dreamy 70's music video – and who doesn't want that?
Now, lace dresses are the ultimate bohemian vibe. However, it must be said. Sometimes finding cute, affordable and not tacky boho lace dresses is a challenge. So allow me to take the work out of it for you!
Today, I'm going to be sharing 24 simply stunning boho lace dresses – you know, for that thing you've got coming up.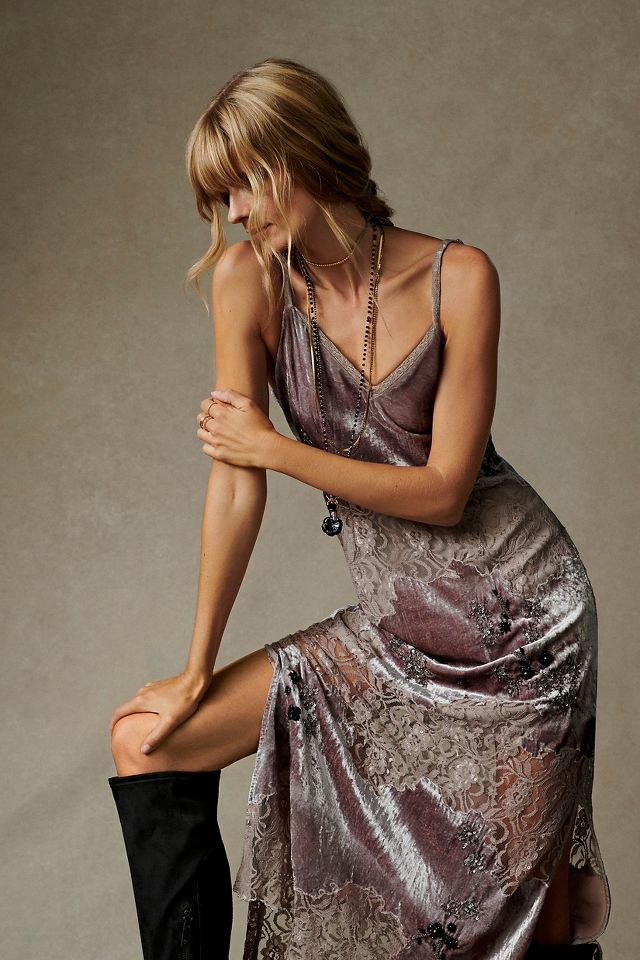 First up has to be our favorite boho-chic brand: Free People. Free People always have the classiest designs – but with a real touch of flair. This slinky velvet number is perfect for the holidays with its sleet color, lace detailing and – ugh! – just look at those sparkles. Instant add to cart vibes!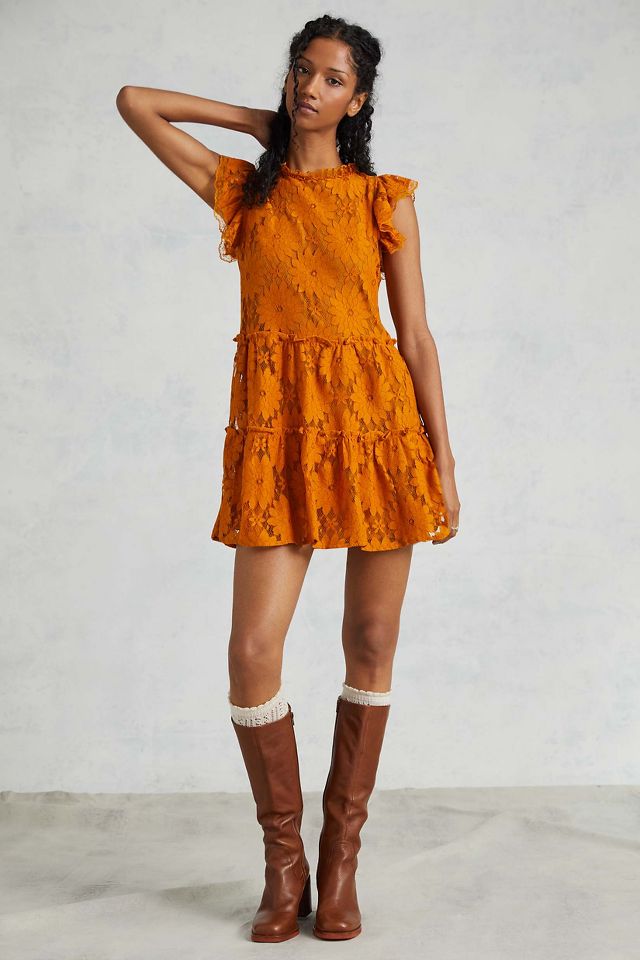 Oh, the 70s vibes are strong with this one! For one, the color. Mustard is such a sunny and bright color – and it looks fabulous in lace. This mini dress is perfect for everyday wear, but you could easily dress it up with some heeled sandals and cute jewelry.
OH – YOU LIKE JEWELRY? GIRL. CHECK OUT MY TOP 25 CUTESY JEWELRY PICKS FROM ETSY.

no, seriously. go have a read x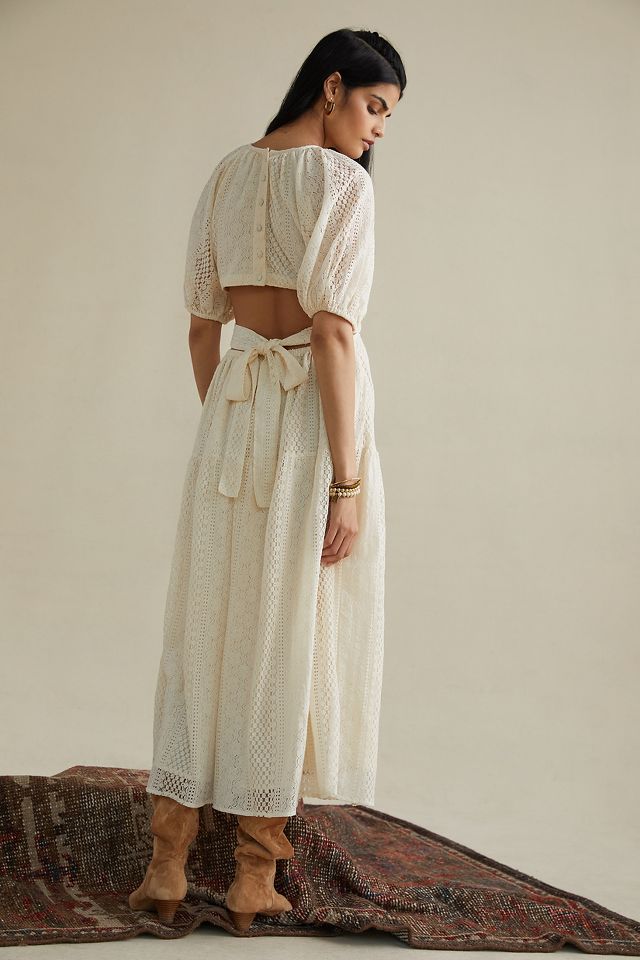 Okay, so I think it's fair to say that when we envision the ultimate bohemian lace maxi dress . . . it's pretty much this! White lace, a classy cut and tons of fun detailing. (Just look at that back. My heart.)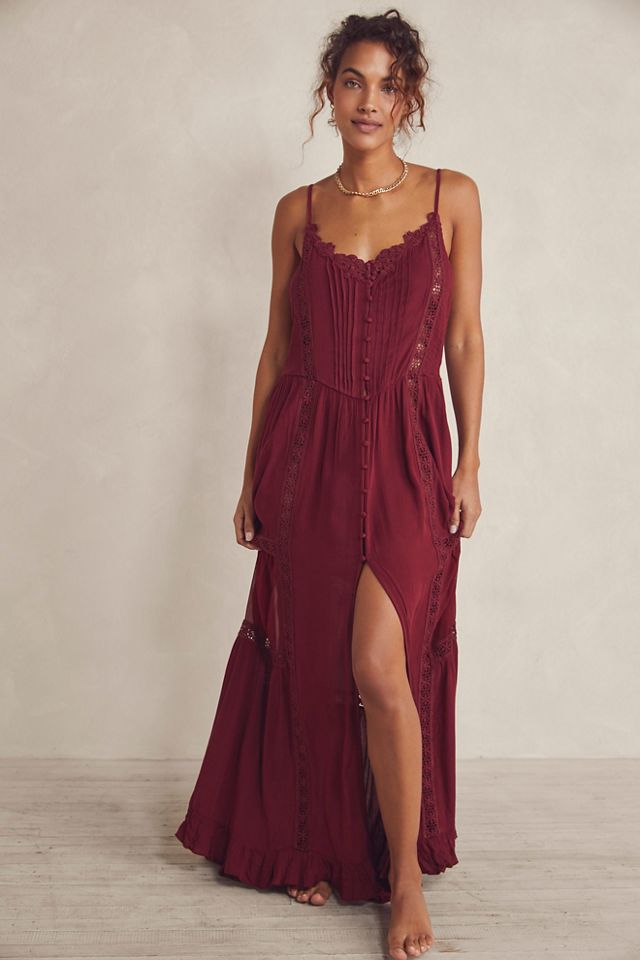 Boho does not have to be beige! I'm living for this sexy, wine-red maxi dress. The lace detailing isn't too overpowering – and the casual fit is perfect for beach days.
Okay, I know I have been featuring our lord and saviour Free People a ton on this list already. However, while not excruciatingly expensive, they aren't the most low-budget-friendly option either.
This next dress is a beautiful lace maxi dress from Aliexpress – coming in at under $30! Plus, it has hundreds of glowing reviews (with photo evidence) so you know it's good quality.
And another low-budget-friendly option you're sure to love! Sage green and pastels are having a moment recently – why not jump on the trend?
Oh, how gorgeous is this dress? Everything about it is a dream – the relaxed, comfortable fit; the beautiful floral pattern; the subtle contrasting lace details. I'm obsessed.
Okay – fingers crossed festivals are back on the cards for 2022 because this colorful number is a total festival 'fit.
The pattern is serving me 70's mushroom trip vibes (and don't we all wish we were there…) and – what I know you're all here for – we have some fun colored lace trimming!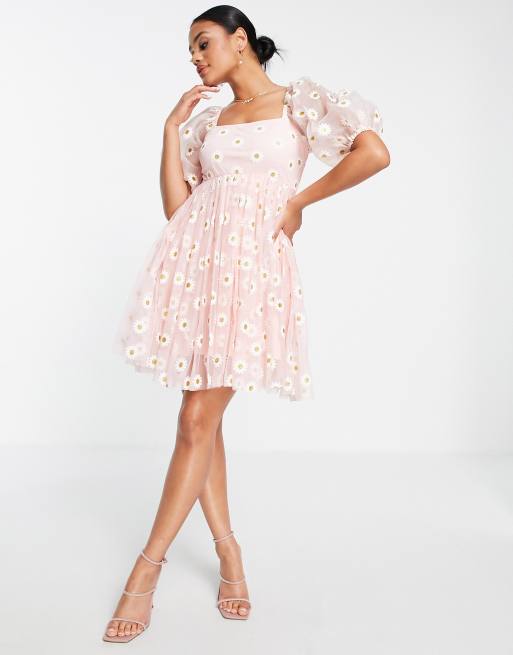 Do we count tulle as lace? If it's embroidered with daisies, I'm voting yes!
Someone please take my credit card away from me stat! This burgundy dress has everything: a sexy off-the-shoulder cut, a thigh-high slit and a flatteringly waist-cinching lace insert. Date night favorite? I think yes!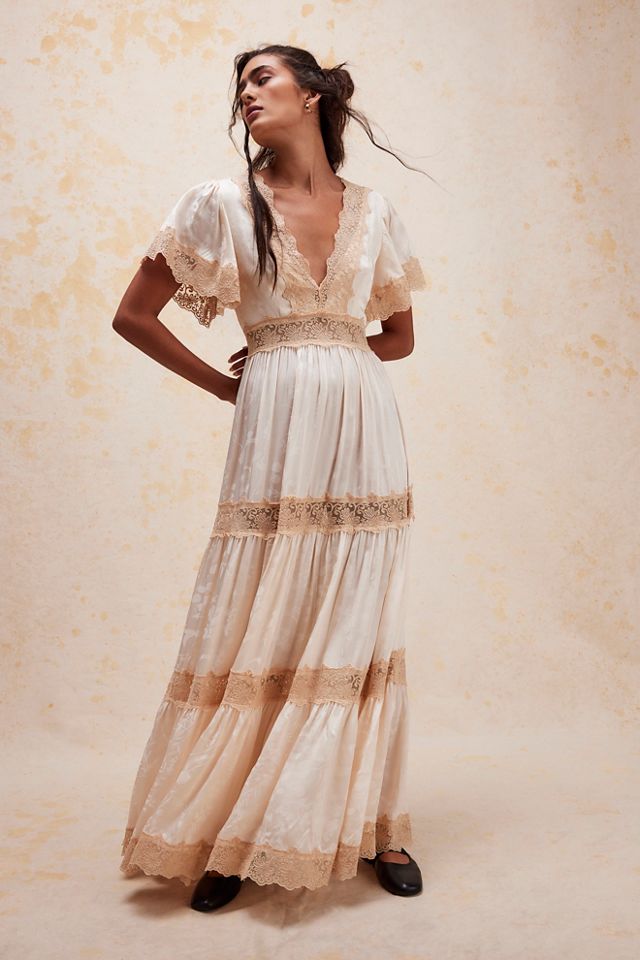 Spell & The Gypsy is one of my favorite Aussie brands for many reasons! One: they're sustainable. Two: their designs are all deeply bohemian and fabulous. As you can see, this maxi dress embodies that perfectly! The contrast of peach lace and white satin is stunning.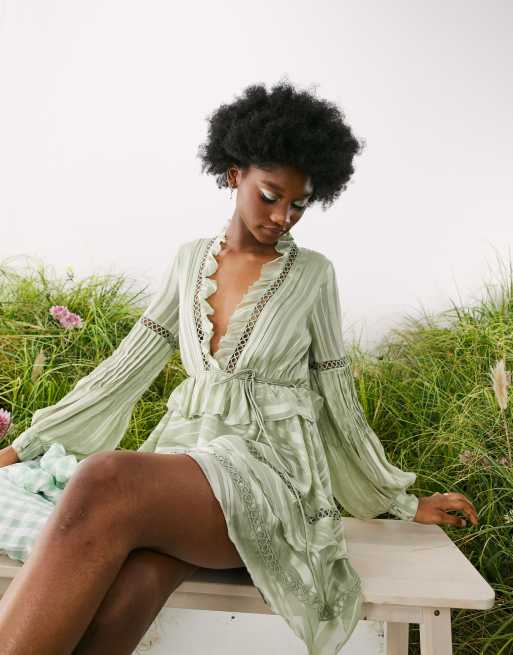 On a budget? No problem! This sage ASOS number is a flattering cut (while still being versatile enough for everyday wear) and it's super affordable.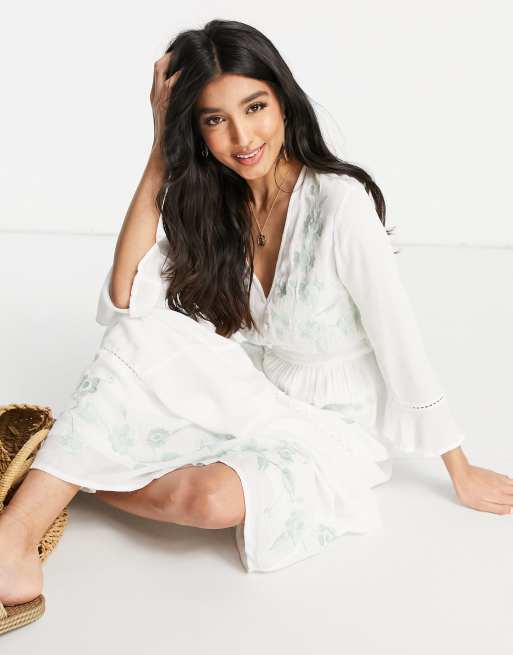 Does anyone else have mixed feelings about ASOS? On one hand, sure, the selection is unparalleled. And the prices are fabulous. However, it feels like you really have to dig for good clothes! Well, I have dug for you: this white lace maxi dress is beautiful!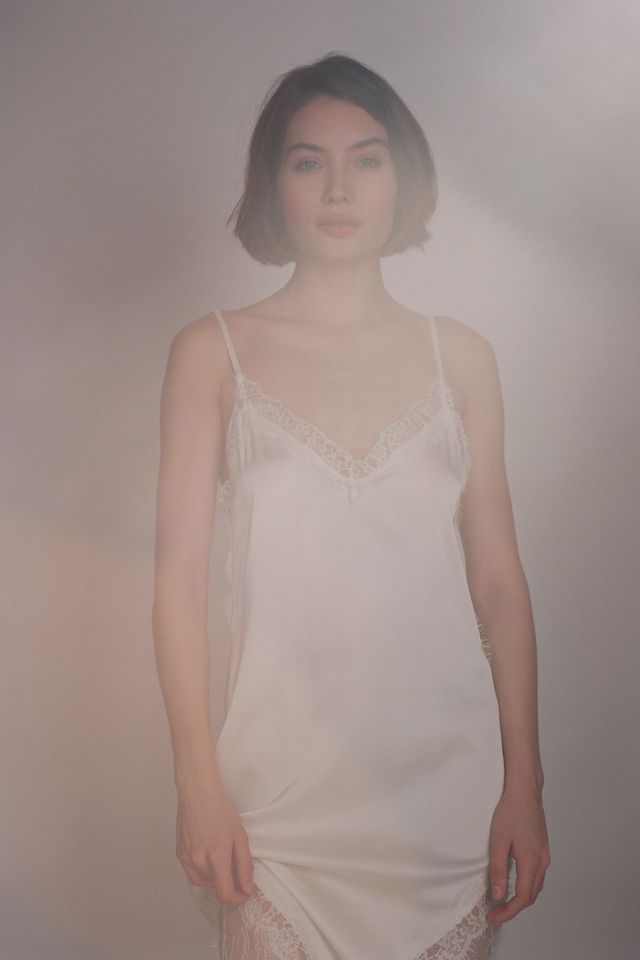 Urban Outfitters is one of my favorite online sotres for clothes! They always sell things are trendy, unique and actually wearable. This grey slip dress is no exception – as I wrote above, I reckon this is the perfect dress for bar hopping with friends!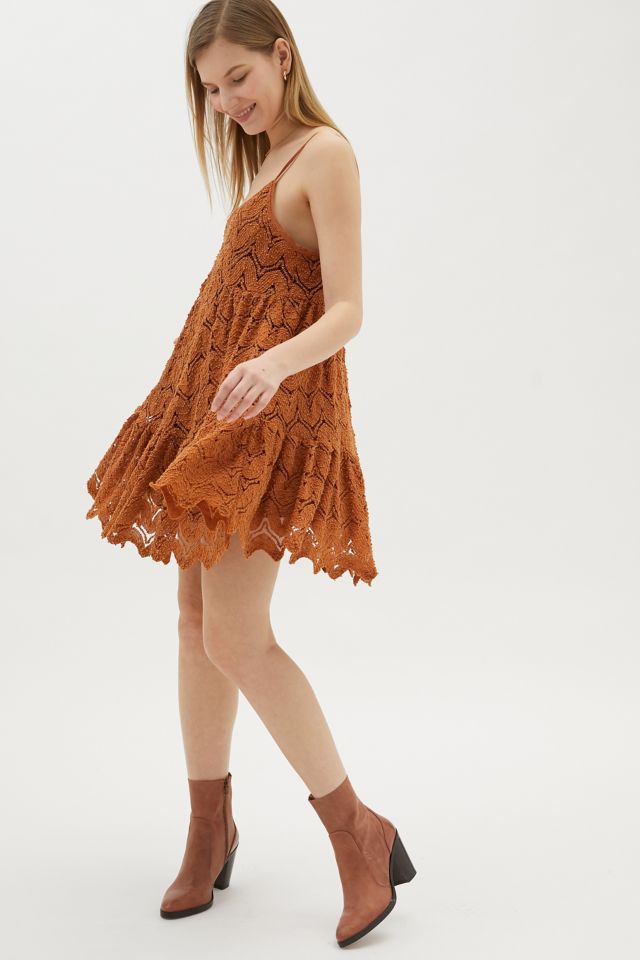 Something I have realised through the writing of this post is that I am totally here for orange lace. It's not a trend I'd seen much of before . . . but boy am I glad that's changed!
I know, I know – this technically isn't a dress. But it is absolutely beautiful, it's lace and definitely fits the boho fashion vibe. So we're 3/4 of the way there!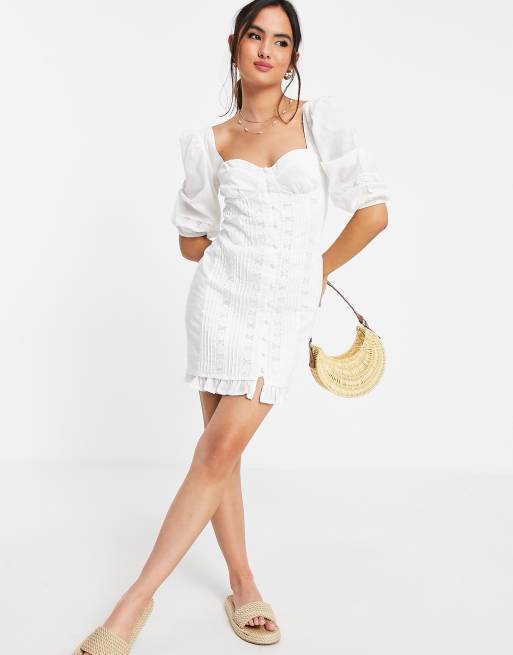 Oh, how dreamy is this next option? This is perfect for picnic dates and summer days. It's the perfect boho lace mini dress!
Um, hello? Get in my wardrobe please?
Recently, I've been loving the whole midi dress vibe. Not having to worry about your skirt flying up or being too short? I love it. (And, yes, I am easily pleased.)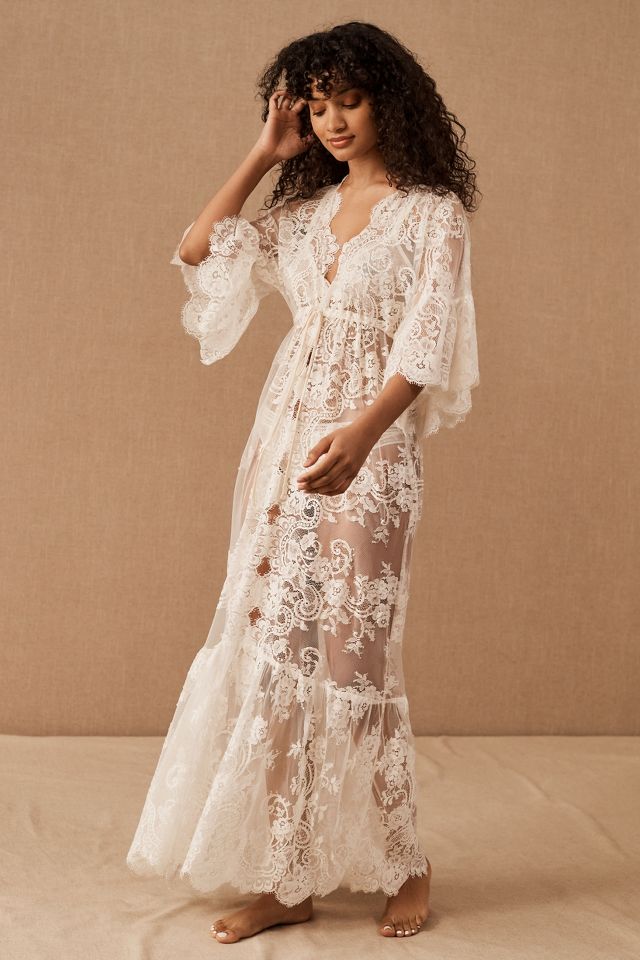 Look, if I were rich, this is totally the kind of indulgent lace cover-up I would invest in for myself.
Our next dress is an absolute dream come to life! It has all the staples of a bohemian classic: paisley print, warm colors, a floaty fit and – you guessed it! – some contrasting lace trimming. Obsessed!
Another stunning find from Aliexpress! This crazily cheap dress boasts glowing reviews and is an absolute stunner. Featuring dreamy lace patterns and tassels, this is the perfect boho beach dress.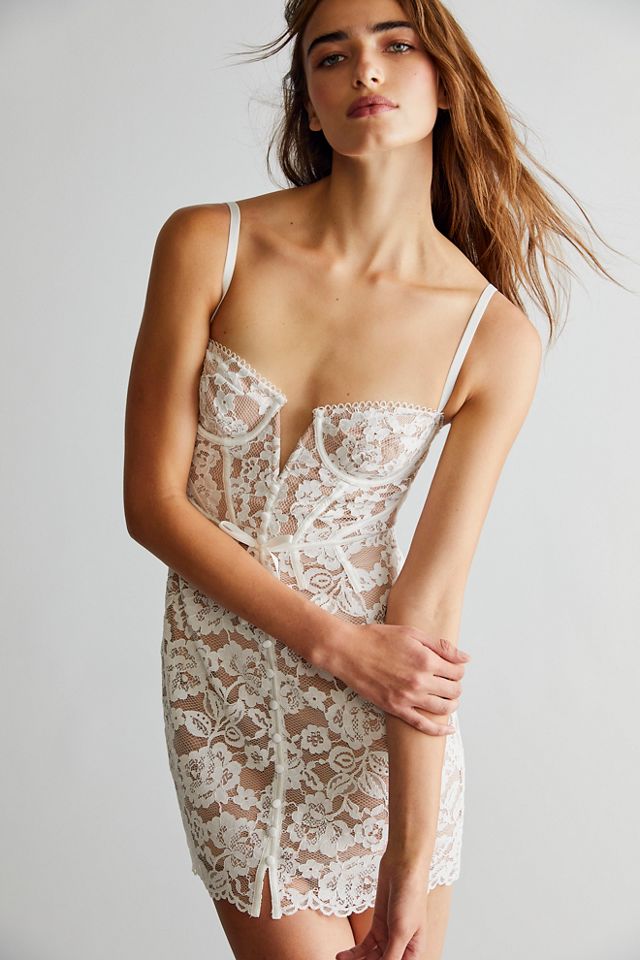 I'm a big fan of the "lingerie as clothing" look – I think it's so sexy! This dress is a total stunner; perfect for date night.
ALERT: Reformation are having a massive sale on at the moment and some of the dresses are 40% off. I could cry. Tears of absolute legitimate joy.
Lastly, we have another sustainable option! This Reformation find is classy, stunning and massively discounted at the moment. Run!
Alright, my friends, we shall end at the end. I hope you enjoyed this round-up of 24 boho lace dresses and found some new additions to your summer wardrobe. Which of these is your favourite? Would you try them yourself? Let me know in the comments below!