A curated list of the 50 best DIY desk ideas the internet has to offer! All budget and beginner-friendly. Affiliate links in post.
Want to know my not-so-secret shame?
One of the most important parts of any office is the desk. Your desk needs to be a comfortable height, sturdy and – I'm shallow, sue me – cute. However, buying a brand new desk can get pretty painfully expensive. (I'm looking at you, West Elm.)
So allow me to share with you all some DIY solutions! Today, we'll be checking out 50 – yes, 50! – DIY desk ideas to build the home office of your dreams. Let's get started . . .
1. IKEA Hack The MALM Desk With Tiles
You may remember my recent home office makeover wherein I hacked the IKEA MALM desk and tiled it. (Well, and did a lot of other fun things like: making a faux arched bookshelf, building side tables from cardboard boxes and painted my own artwork.)
Learn how I made this – and see it in action! – by watching my office makeover video:
I am so deeply obsessed with this that it's not funny! It's just so cute – and totally aesthetic. If you're wanting to make the Pinterest office of your dreams, I honestly think this would work wonders.
(Although, my DIY brain can't help but wonder about potentially wrapping the dowels in velvet and subbing the tabletop for tinted black glass . . . )
Friends, I will tell you right now – Within The Grove is one of my favourite websites! They share the best projects that are:
a. budget-friendly
b. achievable at home
c. look storebought/not tacky
This DIY desk has built-in storage (perfect for crafters like me) and is giving me major industrial warehouse vibes. I love it!
4. Use Old Crates To Build A Computer Desk
Crates are an inexpensive way to add storage space to your home – and they work well as bookshelves, plant stands . . . even DIY side tables! However, I had never seen one be used as a base for a desk. This is another fun way to keep costs down and ensure your desk area has some built-in storage.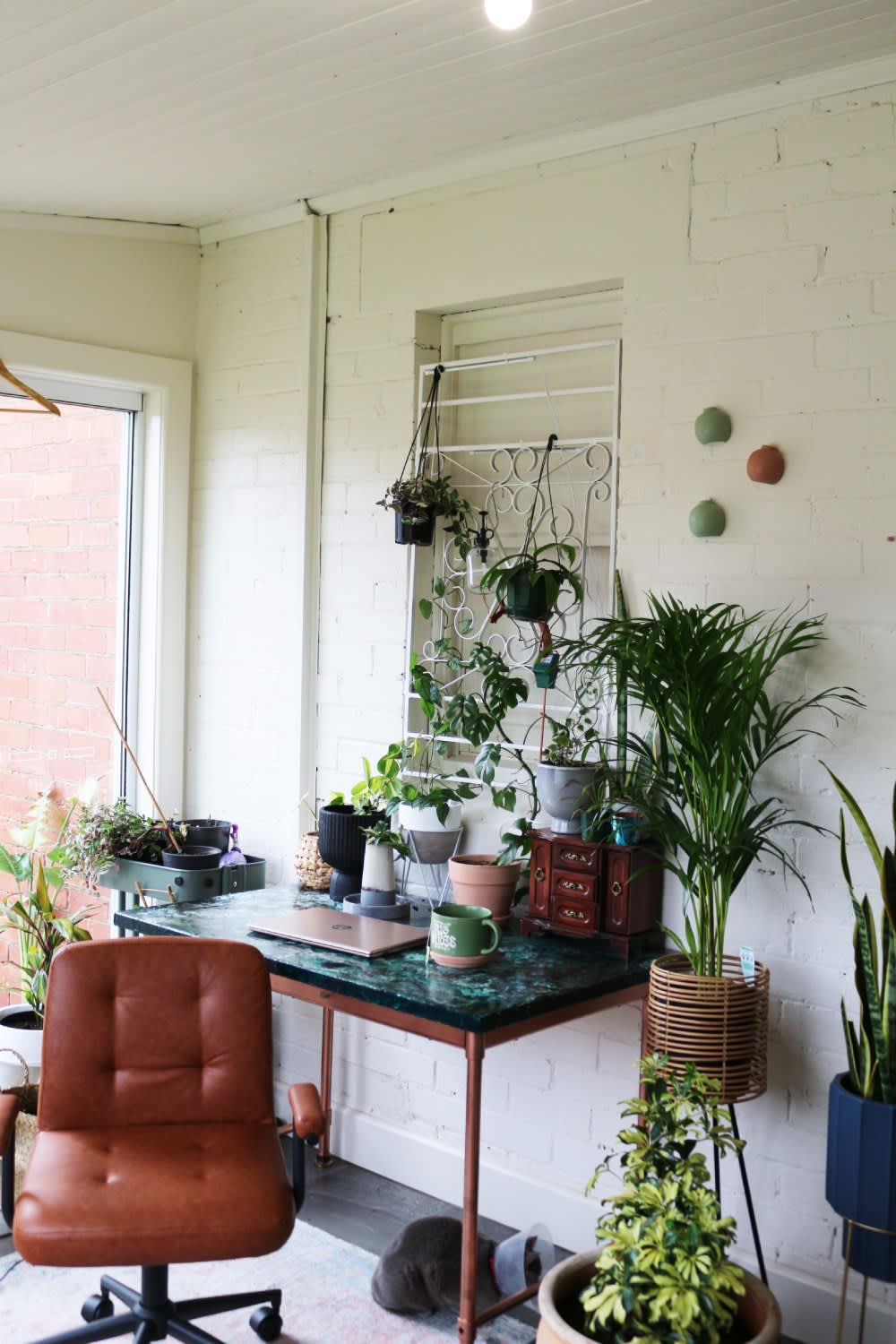 Those of you who have followed me for a long time will be familiar with this next idea – it's from my old website, after all! I love the faux-vintage style of this desk but, even on function, it's a winner. The tabletop is absolutely massive so perfect for creative workers!
A Beautiful Mess is another fabulous DIY blog that shares nothing but the most high-quality projects! This little desk is better suited to little ones – although I work 100% recreate it at home as a plant stand.
I know, I know – another crate desk? Well, yes. Just look at how productive this little set-up is! I'm obsessed.
One of my big goals for the next two years is to learn to use power tools properly. Because making amazing pieces like this by hand? What an absolute flex!
If you own your home or have a really chill landlord, this semi-floating desk and shelf nook is a must-try. Not only is it inexpensive – but it looks so chic. Plus, there's space for two people to work side by side.
Floating desks are all the rage right now – and I can see why! They help to keep your space wonderfully minimal and tidy, plus they look super sleek and modern.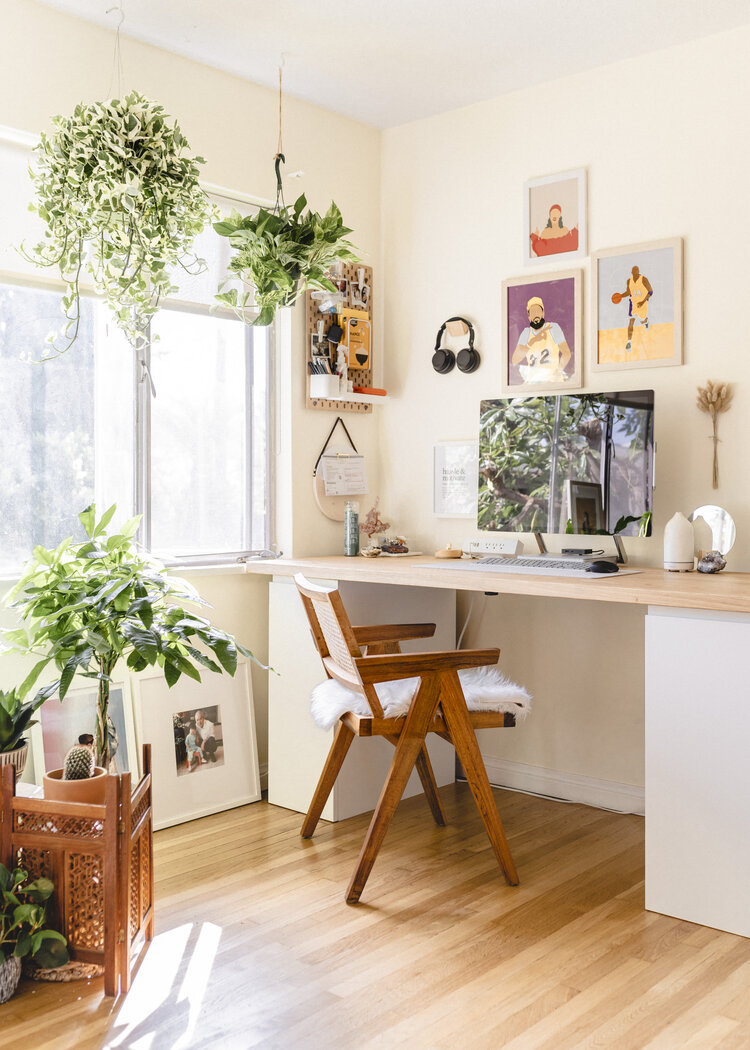 Sharing a small space – or maybe you want to work next to someone? Well, I have the solution for you! This desk is not only cute but it also has a great amount of workspace for each person.
12. IKEA Hack The Alex Drawers To DIY A Built In Desk
Storage space for craft supplies and stationery? Check. Tons of workspace for a computer set-up and any other desktop goodies you may need? Also check. Houston, I think we've found a winner!
13. Check Out This TikTok To See Another Take On Built In Desks!
This looks so much more expensive than the final build turned out to be!
14. I'm Obsessed With This Trendy High-End Dupe!
DIY Danie is one of my all-time favourite Youtubers. She is always coming up with fabulously unique and exciting craft ideas – and this high-end dupe is no different.
You'll be able to tell from this post that I love me a desk with storage options, so the massive stylish cabinets on this bad boy? I'm living for it.
Now, this is a desk that I would make for myself. The vintage vibes? Obsessed. And – again! – the cabinet space? I'm salivating.
If I owned my place – or had a super chill landlord – I would love to make this little built in desk. It's a great use of space and would tuck into small corners of the home perfectly. Plus, for something that's been built from scratch, this desk has a fabulously vintage look to it!
17. On A Budget? This Desk Will Set You Back Less Than $30!
Good old TikTok, am I right?
Enjoying this post? You'll love these ones:
How chic is this built in desk? I love that it doesn't take up too much space either!
19. This Giant Desk Is Gorgeous – And Perfect For Creatives!
As you can likely tell by now, I am a big fan of a large workspace. It means you can have a section for writing, for your computer – a few plants. (Or 20…)
I think a glass desktop can be such a classy addition to any home office. Plus, it can help to open a room up a bit! This DIY take on the trend is surprisingly easy to make, so why not give it a go today?
21. This Quick IKEA Hack Is High-Impact
Honestly, IKEA are one of my favourite stores for affordable basic pieces that are better quality than places like Target or KMART.
22. This Simple Desk Is Perfect For Any Home Office Space
If you prefer video tutorials, this next desk is perfect for you!
I'm utterly obsessed with this farmhouse style desk – plus, it's L-shaped? Perfect for creative workers that may benefit from a little extra workspace.
Was anyone else obsessed with the folding Murphy beds in Sims? Because I loved them – and desperately wanted one for myself.
26. Want A Modern DIY Desk Idea? Check Out This Video!
I am utterly obsessed with resin – it's the perfect craft material and has a ton of practical uses. If you're after a feminine desk, I love the pink and blue tones of this option.
28. This DIY Tile Desk Is Aesthetic AF
Ugh, I love tiled desks. Such a vibe.
Not only is this next idea surprisingly easy to make at home, but the colour of the legs? I'm in love!
30. If You're After A Desk With Tons Of Workspace, This Next Option Is For You!
Our next desk is perfect for a shared office or coworking space!
If you're short on space, why not convert an old closet into a DIY desk? I think this is such a cute idea – and a great way to utilise empty corners of your home.
33. This Budget Friendly DIY Desk Can Be Built For Under $40!
Our next desk option is the perfect basic piece to compliment any room. Plus, it could easily be dressed up with a lick of paint, or some contact paper!
Now, I absolutely adore Anthropologie – but I am not a big fan of the prices. If I were rich, sure. As it is . . . well, I'm definitely not rich. However, this project is a perfect dupe for Anthro's bone inlay desk!
You could easily thrift the cabinets too!
Like . . . is anyone else obsessed with the chalkboard wall? Because that, paired with the empty gold frame, is giving me major inspiration!
So darn cute!
43. Here's Another Youtube Desk Build To Inspire You!
46. This Modern Floating Desk Is Chic AF
Alright, my loves, we shall end at the end! I hope you enjoyed this roundup of 50 homemade desk ideas. If you did, make sure to share this post – and drop me a comment down below!