A curated list of 17 stunning cottagecore wallpaper options to upgrade your home today! All are removable – and totally renter-friendly. Affiliate links in post.
As your resident DIY queen, I'm sure it will come as no surprise to you all that I love removable wallpaper. It's such a fun and renter-friendly way to upgrade your space! (And – let's face it – as a single 23-year-old in our current housing market, there's no way I'm owning a house anytime soon.)
Not to mention, you can use removable wallpaper for all kinds of cute crafts. There are tons of cute upcycles floating around where people use removable wallpaper to update a cabinet's backing, for example . . . Anyways, before I get dragged into craft ideas, let's jump into today's post: the internet's cutest selection of cottagecore wallpaper options!
All of these are perfect for adding a touch of whimsy to your home – plus, I'll share some other super cute cottagecore items that would pair well with them too! Let's go . . .
Fair warning – there is a lot of Rifle Paper Co on this list. And for good reason!
For one, they understood the assignment – and have tons of gorgeous, whimsical wallpapers to fit the cottagecore trend. However, I have also personally tried Rifle Paper Co's products and will happily rave about them all day because the quality? Fabulous.
Is this the cuter take on your Grandma's floral wallpaper? Why yes, yes it is. But isn't that what the cottagecore trend is all about? I love the warm tones of the flowers – however, this pattern comes in other colour options if that isn't necessarily your thing.
Personally, I think the way the wallpaper has been used in the set-up is perfect, especially against the olive green. If you're concerned about making too much of a statement with your cottagecore wallpaper, that could be a fun way to break it up a bit!
This is another wallpaper option that comes in multiple colour palettes, so you can definitely pick something that suits your space.
The citrus print is so cute – I would 100% have this as an accent feature in my kitchen, or maybe as backing to my pantry shelves. You could easily dress it up with some fun matching cutlery too!
The menagerie wallpaper is honestly one of my favourites from this list (especially in the dark colour scheme) – and you can bet your bottom dollar that I have got it earmarked for a craft idea!
I love the attention to detail in this gorgeous pattern. There are so many fun little elements to sit and look at!
As always, Amazon has swept in with a budget-friendly option! Much like your Pinterest feed, I am obsessed with citrus illustrations at the moment – and the fun floral detailing behind these oranges is super cute. Again, this cottagecore wallpaper would be perfect for the kitchen!
Cranes always give me a dark academia/rich countryside estate kind of vibe. So, if you want to live out your most elegant life, our next option would be perfect!
Are you a fellow fan of dark academia and cottagecore trend? Check out these posts too!
You don't have to stick with a traditional colour palette to get the look! The faded, almost faux vintage, artwork on this wallpaper is perfect for a fun accent wall. Plus, the fun mustard colour could be easily dressed up to fit another decor style if you wanted to rework the room.
(Although, the benefit of removable wallpaper is that it's as easy as peeling off a sticker once you're finished with it!)
You can probably tell that I love me a dark wallpaper by now, right? Number 8 on our list is giving me major William Morris vibes – and looks like a fairytale come to life! Style with some vintage wooden furniture and plants? Serving looks.
We are finally onto the Urban Outfitters portion of this post! And, yes, I do consider it a separate portion because I fell into the rabbit hole and am spamming you all with my findings. You're welcome x x x
Anyway, back to business! So, this strawberry wallpaper: I'm obsessed. It's so utterly cute – and has all the hallmarks of a fun countryside summer. Plus, Urban Outfitters have tons of cute matching accessories you could style it with!
Do you now see why UO deserved their own – admittedly non-official – portion of the post? Because they really did this for us. When you think of cottagecore wallpaper, don't tell me this isn't what you think of! Mushrooms? Check. Cute leaves? Check. Woodland berries? Triple check.
I'm sure we can all come together to acknowledge that sage green is having a moment right now. Personally, I'm all here for it!
I think sage is such a beautiful colour – but it's also versatile. You can use it in most common decor schemes, like mid-century and boho; plus, it's pretty easy to match colours with. We love.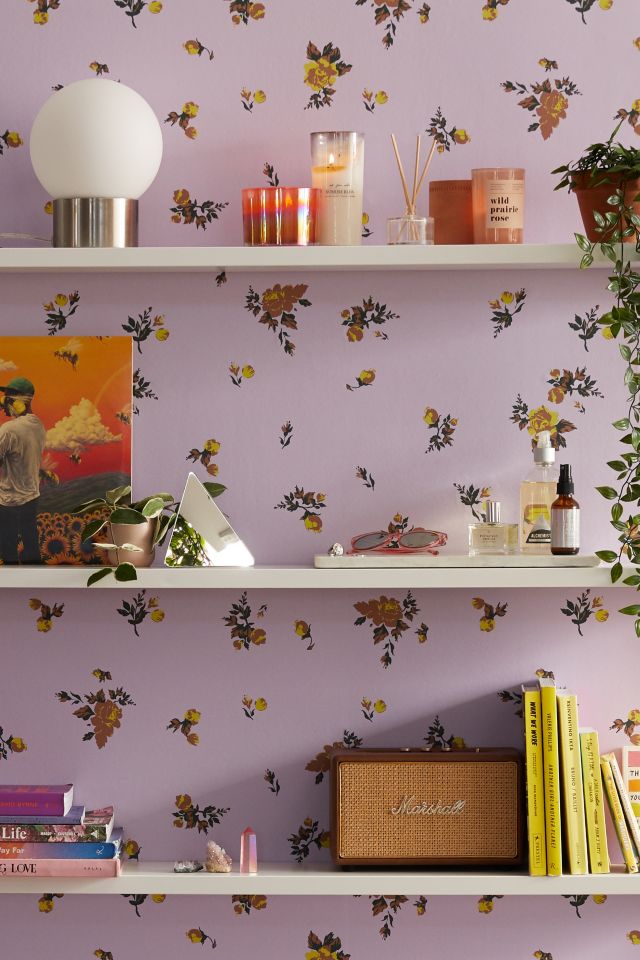 I'll be the first to admit that some of the other removable wallpapers are very busy – and that might not work for everyone!
This next option still has some fun floral detailing to offer but is a more minimal approach. I love how it's been used behind shelves for the styling photo, especially with the colour of the shelf accessories.
Another fun option that's a little more reserved is this floral line-art wallpaper. The monochrome colour scheme means this would be pretty easy to style with other colours – and the design itself isn't too overpowering either!
This wallpaper takes me back to a simpler time, making daisy chains on the school fields. It's super cute and would make an adorable accent wall!
If you prefer a more vintage style, this next option might be perfect for you!
I love the high-definition detailing of the flowers especially!
Our last addition to this list is most definitely not least! When I think of cottagecore, I think of mushrooms – and this wallpaper is burst full of 'em.
Alright, my friends, with that we shall end this post. I hope you enjoyed this selection and found your next wallpaper choice! As always, don't forget to share this – and feel free to drop me a comment letting me know what you think!