Looking for a cute, budget-friendly DIY side table or end table? Here are 50 of the best projects to recreate in one place!
I think a symptom of adulthood is the sudden onset of actually caring about furniture. Let me tell you, 17 year old me could not give less of a damn when it comes to things like coffee tables and side tables. But now? I'm obsessed.
Today, I'm going to share 50 must-try DIY side tables and end tables with you all! Let's do some window shopping . . .
1. Upcycle A Cardboard Box Into An Arched Side Table
The first addition to this list is a cheeky self-promotion! My DIY arched side table is totally *aesthetic* – and it's an upcycle of a literal cardboard box. So, if you're still in the grips of an Amazon Prime addiction, this project is the perfect way to utilize all your delivery boxes!
Check out the tutorial in my video below:
Oh, sweet Jesus babies. You guys already know about my obsession with tiles (I did in fact cover an entire desk in them). I love absolutely anything tile-related – and this trendy side table is no different! Such a fun decor piece – and way cheaper to DIY than buy!
This next project looks startlingly storebought – and high-end! I will be giving this a try myself when I'm settled into my own place . . .
A mirrored side table to reflect all the cute sides of your living room? Maybe with a super funky lamp on top? Oh, it is a straight-up vibe! (Not to mention, a super cheap craft!)
How is this not vintage? I'm shook. You can quite literally make this adorable end table using your hands and some tools. What a world!
The plaster table finish is so trendy right now – and for good reason! It's such a chic trend and looks super classy.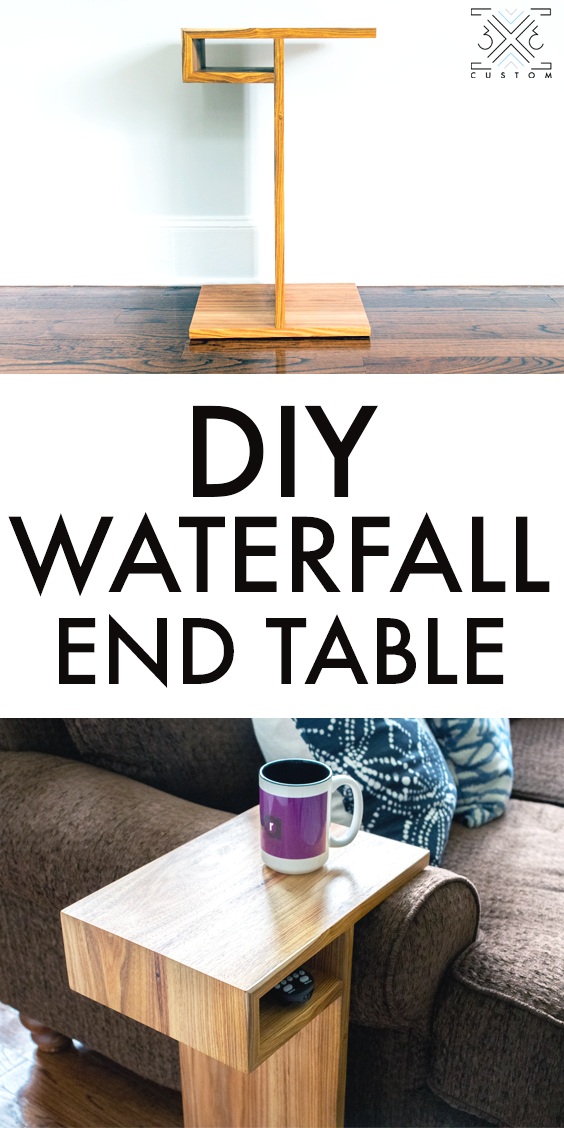 How practical is this DIY end table? Not only is it super cute – but it's also the perfect resting station for your mugs and TV remotes.
West Elm is 100000% one of my favourite stores – however, I do not enjoy their price range. At all. I don't know who has a budget like that . . . but, if you would like to donate to me, don't be a stranger!
Sorry in advance for the tons of cute fluted tables you're about to see. Except, they're a total vibe and – actually – you're welcome.
I have an entire section of this website dedicated to thrift flips – and for good reason! They're affordable, good for the planet, and add a touch of vintage flair to a room. Pretty much all the thrift stores I've visited have $10 trunks, so why not get to upcycling one?
You'll definitely realise this by the end of the post, but I love tables with storage options. A slot to tuck away decorative items like
To tell you the truth, I cannot believe that someone has shared how to make this beauty . . . for free! Not only is this surprisingly easy to recreate, but the final piece looks like a one-of-a-kind find from the store.
It's a table . . . with storage. You guys already know that your girl is utterly obsessed with mid-century decor – but a DIY side table with space to keep your items tucked away? Sign me up!
14. IKEA Hack A Table With Tiles
I am crying at how cute this is and also off to Home Depot to recreate it?
15. This Checkerboard Side Table Is The Ultimate *Aesthetic* Addition To Your Home
My friends, I am honestly obsessed with the checkerboard tile look. This colour scheme especially is subtle enough to not be overpowering – but is still super chic! We love.
Dunn Lumber shares this simple-to-follow tutorial for how to create a quirky and minimal side table. I'm living for the exposed books too! Books as home decor is one of my personal favourite trends.
I'm so obsessed with the farmhouse vibe – it's just so wholesome and homely! This side table is an absolute must try; it just looks so high quality and storebought.
Next up on our list is keeping it plain and simple – but highly useful!
19. This TikTok DIY Shows You How To Make The Ultimate Wavy Side Table
As I'm sure you can tell by now, the funky modern vibe with pastels and wavy furniture is one of my favourite trends. This handy side table is used in the bedroom, but is cute enough to display furniture anywhere in the home!
You will be shocked at how quick and easy this little project is!
If you're a fellow music lover, this vinyl table is a must try! It could even be a super cute record player table . . .
I'm all for using natural elements, like wood, in home decor. It makes a room so much cosier! This side table not only perfect for most decor styles – it also has a distinctly cottagecore vibe. In fact, if you love it, make sure to check out my top 50 must-try cottagecore DIYs.
23. Upcycle Postal Tubes Into Handy Side Tables
Guys, has anyone else noticed that postal tubes are having a moment? People are reworking them in all kinds of c
I told you guys that I'm obsessed with fluted tables! This pastel blue take on the trend is definitely one of my favourites
You guys already know about my deep and unending love of plants and terrariums – so I am all over this DIY terrarium table. Personally, I'd stain the wood for a more vintage feel.
How chic is this craft? I remember when copper pipe furniture was all the rage – so why not get the look for less by going handmade?
27. This Gorgeous Stone Side Table Looks So Luxe – But Is Easily DIY-ed In A Few Steps
If you have Pinterest or Tiktok, you've probably seen these stunning travertine side tables. Not only are they insanely cheap, but they're also super easy to make!
Enjoying this post? Make sure you catch these ones too:
How adorable is this crate side table? If I hadn't seen the progress pics, I would 100% believe this was a thrift-store find!
29. I Love The Boho Vibe Of This Slatted Side Table Tutorial
Youtube has understood the assignment! This fun DIY side table is made of wooden slats and adds a touch of boho fun to any room. If you have any climbing plants, you could even use the slats as a trellis.
30. Create This Chic Minimal Side Table
I think we can all agree that my style is many things . . . but it sure isn't minimal. However, for those of you who enjoy the more elegant and monochromatic look, our next side table is the perfect fit! (Plus, with the handy video tutorial, it's super easy to make at home.)
This is a fun way to hack cheap furniture from stores like Target!
How stunning is this little table top? I'm obsessed! The tutorial shows to how to create a real terrazzo table top just like this – and I love that it can be scaled up or down to fit the size of your home.
This next addition to the list honestly has me missing my cat. But the table itself is also super cute!
34. Crates Make Inexpensive & Fun DIY Side Tables!
Using crates in home decor is so fun. It's inexpensive, adds a touch of vintage flair to your home – and extra storage space is always a yes from me.
My friends, you already know how obsessed I am with IKEA hacks. They're inexpensive, easy and so fun! This quirky little side table is very budget-friendly – but adds a touch of warmth to any room.
36. Make Your Own Cement Side Tables!
Fair warning, my friends: I am going to be using cement a lot in the next few months. It's such a fun and easy material to use – not to mention, cheap!
37. Get Creative By Making A Floating Side Table
I love hanging decor – I think it's such a fun use of space and means you don't have to compromise on floor space. In fact, I'm planning on getting a loft bed at my new place to keep my bedroom from feeling too cluttered . . .
38. Use Travertine Tiles To Make A Ceramic Side Table
Admittedly, this isn't a full tutorial (sad) – but the inspo is honestly gorgeous! Plus, I've shared a few projects that teach you how to tile already on this list. So it's the same principle, just with travertine tiles!
Such prettiness.
40. IKEA Hack Empty Crates Into A Big Side Table With Storage
41. This Is Officially *The* Easiest Wicker Side Table
42. Another Crafty IKEA Hack!
43. Build These Chic Pedestal Tables
44. Get Real Crafty With Resin
47. Try These Clever Ideas For A Side Table And Storage Space
48.
49. How Stunning Are These Luxe Baby Pink Velvet Side Tables?
50. Lastly, This Side Table Doubles Up As A Bed For Your Doggos!
Altight, my friends, we shall end at the end! I hope you enjoyed this post as much as I enjoyed curating it for you.Would you attempt any of these projects? Which was your favourite? Let me know your thoughts in the comments below!